Brainstorm : Contact / Contribute : Ecology : Intellectual Property Policy : Paradigm Shift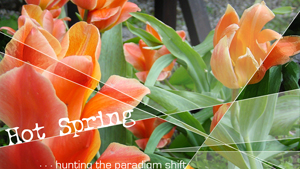 The Hot Spring is about innovation and problem solving, in a collaborative framework. It is a discussion-forum experiment from Casavaria Publishing and aims to be a publication that allows users to gather, share and debate paradigm shifts in science, technology and social theory, which could lead to major advances in crisis-resolution and hi-tech applications.
All ideas shared here are provided by users with the knowledge that they may filter into the HotSpring collaborative innovation initiative's development channels, and that this collaborative knowledge development is implicitly part of The Hot Spring's ethos. Your information and your sources are shared at your discretion, but openly contributed for the betterment of the project, and the advancement of science and human society.
A major component of the HotSpring model is the aim of reaching a point of awareness of the coming paradigm shift in a given field, through brainstorming, debate and research intensity, to go beyond the current prevailing views and find the moment of transition beyond which research, problem-solving and production take on new forms not previously possible.
Intellectual property is important to us, so we aim to provide coverage for the intellectual property of each through licensing for the full discussion, research and development, on a group basis. We aim to work out new concepts for common copyright management or for flexible individual licensing that provides benefits to contributors and to the whole.
Please add any suggestions, if you are a likely contributor concerned about this issue, either by comment or by way of the contact information found below…
Our projects have their base in interactive online debate communities, which are designed to provide a flexible range of information, meaningful debate, and to expand the frame of reference for the examination of any given problem. The current format is a streamlined opening phase, from which we plan to expand rapidly, and work to revolutionize the manner in which research and criticism are conducted online.
Contact Us:
Also look for other projects from Casavaria Publishing: